At the end of the 2011 season, the decision was made to move the annual coaches meeting and awards ceremony from it's slot the night before the state meet to the Friday evening as part of the Track Coaches Convention in the following January. As a result, the inductees for 2011 & 2012 were combined.

Bill Kemp – 2011
Bill Kemp grew up in Spokane, Washington.  He graduated from North Central High School in 1964.  Though his family had no background in athletics, Bill participated in baseball & track & field.  He eventually lettered as a manager.
Following high school, Bill attended college at the University of Idaho where he earned his Bachelor of Science degree in Chemical Engineering & Forestry ('73).  In 1980, Bill earned his Bachelor of Arts in Education from Eastern Washington University.  He went to earn a Master's degree in Education from Gonzaga University in 1990.
During Bill's thirty-one years as a teacher/coach at Chattaroy's Riverside High School, he taught chemistry, physics & mathematics.  He was also head cross-country coach for thirty years.
Highlights of Bill's coaching career include having twenty-one boys' teams & twenty-five girls' teams compete in the state meet.  His boys' had sixteen (8 trophies) & his girls' twenty-three (16 trophies) top-ten finishes.  Both teams claimed two state titles.  Outstanding individuals included Bob Hunt & Katie Prichard.
Bill's coaching career included being selected both W.S.C.C.C.A. Boys' & Girls' "Coach of the Year".  He was also a nominee for Regional "Coach of the Year".  During his tenure, teams accrued twenty-two State Academic Awards.  He also served on the Advisory Board for the W.S.C.C.C.A..  Bill was a staff member at the Clear Lake/White Pass Cross-Country Camp for thirty-one years.
Bill Kemp has been married to his wife, Janet, for the past thirty-seven years.  Janet is a school administrator & the former gymnastics coach at Ferris High School.  Their five children, Annie, Jeff, Beth, Julie & Erik, all ran cross-country.
Bill says the highlight of his coaching career includes "coaching a second generation of athletes & hearing the stories their parents remembered from their cross-country experience. This helped me realize the importance of the athletic experience for our youth," recalled Kemp. A recreational runner, Bill has completed four marathons – San Diego, Spokane, Pittsburg & Anchorage.

Patty Ley – 2011
Patty Ley spent her early years in Tacoma, Washington, where she attended St. Charles Borromeo Catholic School & Bellarmine Prep.  In 1980, the family moved to Gig Harbor.  While at Gig Harbor, Patty claimed five individual state titles in cross-country/track & field.  She was also part of two state championship relays & four state championship teams.
Following high school, Patty continued her running at the, University of Oregon, Washington State University, & Pacific Lutheran University.  While at PLU, Patty was an NAIA All-American & '92 Olympic Trials qualifier (1500-meters).  She graduated in '93 with a degree in Secondary Education.
After college, Patty returned to her alma mater.  She began assisting her high school coach, Joel Wingard, & taught ninth grade English.  Between 1997 & 2009, teams under Patty's tutelage had ten boys' & twelve girls' state meet appearances.  The girls' claimed state titles in 2005, 2006 & 2007.  Patty was selected W.S.C.C.C.A. Girls' "Coach of the Year" in 2006.
Presently, Patty is the assistant coach to Pat Tyson at Gonzaga University.  She primarily works with the women.  A past United States World Cross-Country Coach (Junior Women), & NFHS Western Region Cross-Country "Coach of the Year", Patty feels her most rewarding achievements include being able to share a state championship podium with her daughter, Meaghan, & watch that team place seventh at Nike Cross Nationals.
Patty also found it rewarding to "help kids believe, trust & grow as people; then, go on to pursue careers such as the military, medicine, computer science & the law".
Patty Ley comes from a long line of runners.  Her father competed in track & field at Burien's Highline High School.  Brother Mike competed at Wilson High School.  Brothers Chris, Matt & Dan ran for Gig Harbor.  Her son, Brendon, also ran cross-country at Patty's alma mater – Gig Harbor.
Joseph Stewart – 2011
Joseph Stewart grew up in Kelso, Washington.  He graduated from Kelso High School in 1972.  During high school, he was a cross-country/track & field athlete.  His parents were very supportive; but, weren't very athletic themselves.  One of six siblings, Joseph credits his brothers with encouraging him to take an interest in sports.
Following high school, Joseph attended Southern Methodist University in Dallas, Texas, where he continued his cross-country/track & field.  Senior year Joseph was elected team captain & inspirational athlete in both cross-country/track & field.  He also set the 3-mile school record (13:50.7).  Joseph graduated in '77 with a degree in history.
Returning to Kelso High School, Joseph taught U.S. History & worked as a guidance counselor for thirty years.  During that time, he coached cross-country/track & field.  His teams claimed thirty-nine League Championships (19 boys & 20 girls), thirty-four District Championships (16 boys & 18 girls), & made forty-two state meet appearances (20 boys & 22 girls).  They had twenty-four top-ten finishes.  His cross-country teams had a dual meet record of 339 wins & 15 losses.
Joseph knew he wanted to be a coach in the sixth grade.  "I grew up admiring coaches & felt it was something I could do," he said.  His most rewarding achievements include guiding fifty-seven student/athletes into the college running ranks.  Kelso's Carolyn Gilbert claimed the state cross-country title in 1984.
Joseph Stewart has been married to his wife, Pam, for the past thirty years.  They have two children – Jennifer & Jacob.  Jacob ran cross-country/track & field at Iona College in New Rochelle, New York, where he was recently hired as assistant cross-country/track & field coach.  In 2011, Joseph was honored by the Kelso School District when the local track was named after him.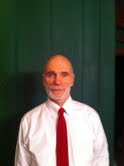 Ross Thomas-Saint Georges
Ross Thomas grew up in Palo Alto, California, where he attended St. Francis High School.  During those years, Ross was a basketball & baseball player.  He graduated from high school in 1966.  Following high school, Ross attended Santa Clara University where he majored in English ('71).
When Ross began his teaching career at St. George's-Spokane, they didn't have cross-country.  Ross saw that as rather unfortunate; so, he started a program in 1982.  Besides teaching, he also did a variety of administration jobs & coached girls' basketball & baseball until 2000.
Between 1990 & 2000, St. George's had 19 boys' & girls' teams qualify for state.  They claimed four state titles.  As a result, Ross was voted the W.S.C.C.C.A. Girls' "Coach of the Year" in 1999.
Ross considers his most notable accomplishments as a coach including the development of a cross-country program at St. George's which eventually grew into a perennially tough squad, & experienced one of the most successful decades ('90's) any team has every had.
Besides his cross-country success, Ross's girls' basketball teams claimed three state titles.  They also set an all-time Washington record with 114 consecutive league wins, & appeared in Sports Illustrated's "Faces in the Crowd" for their win streak.
Ross also coached four baseball teams to the final eight in state.  Three of the last four years he coached his teams finished 18-2, 19-1, & 20-0 during the regular season.  After leaving St. George's Ross Thomas moved to Beaverton, Oregon, where he is principal at Valley Catholic School.  Ross & his wife, Claudia, have three children – Matt, Mike & Pat.